Brampton dental office is ready to see you now! Peace of mind, exceptional safety standards for patients
During these unpredictable times, we're all looking for a little bit of comfort, a healthy dose of "normalcy." Our dentists at Brampton Dental Arts are privileged to provide a sanctuary and lend a friendly, supportive hand in an uncertain environment. As the Royal College of Dental Surgeons of Ontario and Ministry of Health has lifted the previous ban on non-emergent dental services, we are thrilled to be open "for business," and to be able to see you and your family for all of your needs again. That said, as a dental office for patients in Brampton, ON that is reopening amid never-before-seen conditions, we don't take this responsibility of caring for our "guests" (and public safety of our community) lightly.
Led by Dr. Azeem Sheikh, the Brampton Dental Arts team views patients as an extension of each of our families. We care for them as we would want our family members and beloved friends to be cared for by other providers. We expect only the highest-quality services, within an environment of unsurpassed safety, for our family members and friends. You deserve that same level of care and attention.
Dental offices have always been held to high standards; however, we have invested in equipment and training to adhere to new guidelines, and that takes our already exceptional pre-pandemic standards up a notch. For instance, we are a proudly "Surgically Clean Air" practice. We use medical-grade air purification systems to assure the cleanest air, free of viruses, allergens, and many other pollutants present in public spaces and workplaces. These types of systems are getting a lot more attention during the pandemic as offices work to create "well" spaces for their people, patrons, and the planet. Brampton Dental Arts liked what they saw from these sophisticated technologies, and now you can benefit from an even cleaner and healthier environment. Of course, we also have full Personal Protective Equipment (PPE) for all staff, clinical and otherwise, and additional safeguards such as screening protocols that we can discuss with you prior to your recall visit.
A note on the importance of oral care during challenging times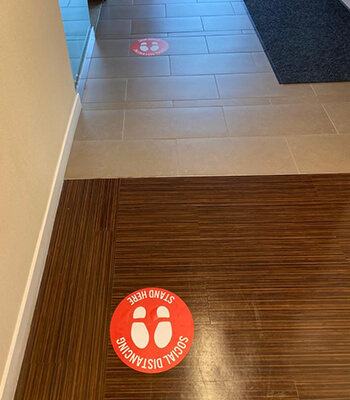 It's only natural for your feelings to vacillate from anxious to stressed-out and back again. The important thing is to be aware of these feelings, acknowledge them, and keep them in check. As your partners in oral health, Brampton Dental Arts appreciates that stressed-out or depressed patients may skip flossing, or stop brushing or cleaning their teeth altogether. Additionally, stress has the effect of suppressing your immune system. When this occurs, you are more vulnerable to oral infections as your body's defenses are down. Our guests who already had early-stage gum disease may find that the condition worsens during periods of duress. Also, your teeth may be more vulnerable to decay and damage caused by grinding or clenching, a condition known as bruxism. It's thought that the tension you feel during stressful circumstances or life changes is expressed through teeth-grinding.
These conditions make it all the more important for us to see you, our longtime friends or new and valued guests. It is an honor to keep you and your loved ones safe and healthy through these challenging times.
Existing patients can call Brampton Dental Arts, conveniently located in 105 Father Tobin Road, Unit #7, at (905) 791-8768, new patients can call us on (905) 581-3726.
Share This Article:
Back to Blog Page