Are you searching for a family dentist in the
Brampton, ON area?
Dr. Azeem Sheikh and his team love practicing family dentistry in Brampton, ON. They get a real sense of satisfaction seeing grandparents, parents, and children enjoying the benefits of healthy mouths. Patients of Brampton Dental Arts quickly develop a comfortable relationship with the entire team – From the amazing front staff, caring dental assistants, gentle hygienists, and of course Dr. Sheikh. Family dentistry is a win for everyone.
Focus on preventing dental problems

At Brampton Dental Arts, our goal is to help patients avoid the discomfort and expense of dental problems. That starts with listening – unhurried two-way communication to understand your concerns and lifestyle. Patient education is essential – why? Our focus is to offer our patients all the options available to them, involve every patient in all treatment decisions, and perform the treatment to the highest standard of care. Most importantly, a strong emphasis on oral health education allows us to empower our patients so that they can maintain their smile for a lifetime.

Regular hygiene visits include a thorough oral examination, high resolution/low radiation digital x-rays (as needed), gum assessments and monitoring, along with oral cancer screening. With this level of precaution, should an issue arise, we can catch it early when it may be treated most efficiently and economically.

Our office provides a wide range of services including cavity prevention (fluoride and dental sealants), gum therapies, and restorative treatments. In addition, cosmetic smile enhancements, along with dental implant solutions for tooth replacement and denture stabilization are performed routinely in our office.
Brampton Dental Arts Family Video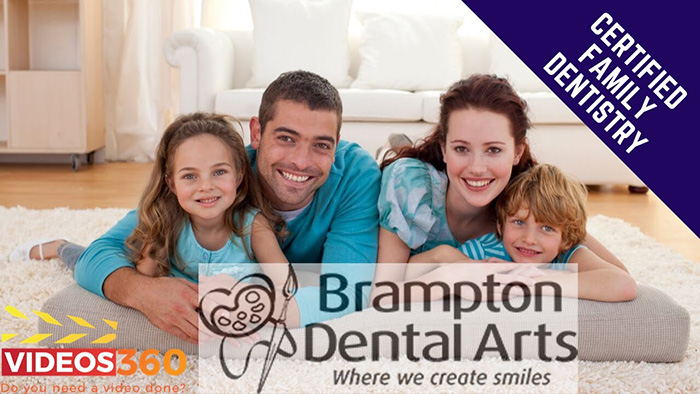 If you are someone looking out for a Family Dentistry which is a Kids friendly in the Brampton, Ontario this is the place you should visit. Brampton Dental Arts managed by Dr. Azeem Sheikh along with an awesome team ensures they provide the full package for your family, especially the kids.
Video Transcript
What is family dentistry?
Family dentistry is generally where we able to treat all members of the family.
What we find in many practices around us is that they can treat adults but when it comes to the children it becomes more challenging and one of the things that we focus on in our practice is treating kids.
In fact, we are referred patients from other practices to treat kids who can't be treated in a general practice setting.
What do you do differently to other practices?
What we do differently is we talk to them in their terms, with something called a sugar bug story which really takes the patient or child through what we are going to be doing in a very friendly manner, we also offer Netflix.
In addition to that, we use something we call laughing gas which is safe. It is a little mask that we put that helps relax the child and, in many cases, we are able to perform the treatment without any freezing or any needles at all. It is amazing.
So, these kids who may have been sent to a specialist are now able to be treated in our practice. As a result, what happens is parents love to test their kids out first on us and the parents then come and become part of our practice.
What benefits can patients expect?
Everyone is a candidate and the benefits are that we don't have to refer you somewhere else but everybody in our office is very well versed in adults and kids with different levels of anxiety, in fear. For that, we get referred a lot of.
Make your family part of the Brampton Dental Arts team of happy smiles. We welcome new patients of all ages. Call (905) 581-3726 to schedule an appointment.
It makes sense to have a family dentist in Brampton, ON
Careers, school, athletics, shopping, meals, social time, homework – family life is busy! Reduce missed work or school time and travel less by consolidating appointment days for multiple family members.
Having one dentist for everyone in the household has other advantages, too:
Knowing your medical background puts the doctor in a good position to recommend the safest dental treatment.
Your electronic dental records are handy, and the dentist knows your current situation should an emergency occur.
In treating several generations, the doctor develops an understanding of genetic oral traits; this knowledge aids in catching any potential problems early on in your child's dental development.
Kids learn from you-seeing you greeted warmly at the reception desk, treated gently in the chair, and leaving with a smile is a tremendous lesson in the value of commitment to lifetime dental care.
Make your family part of the Brampton Dental Arts team of happy smiles. We welcome new patients of all ages. Call (905) 581-3726 to schedule an appointment.