Gentle techniques, convenient scheduling, things to consider before choosing a family dentist in Brampton ON
Brampton Dental Arts knows there are many dentists to choose from in the GTA. Dr. Azeem Sheikh and the team are glad you've found us during your search for a family dentist. It's our great privilege to have so many generations of families who trust their smiles, health, and wellbeing to us. As you weigh your options, there are a few things to consider before choosing a family dentist in Brampton, ON to treat your loved ones.
Truly caring dental care
Brampton Dental Arts views each patient as a unique person, not as a number or just another appointment. Our patients appreciate that we listen to their concerns in an unhurried manner, answer questions, and even catch up on the grandkids. Dr. Sheikh and the team see you and your family members as more than teeth and gums, or problems to be resolved over the short term. We prioritize educating patients on preventive care, providing personalised recommendations to aid in good hygiene at home. That way, you never need to "resolve" anything; instead, your beautiful smile and oral health are maintained long term.
Since we get to know our patients, we're aware when they may have conditions such as diabetes that increase their risk of developing gum disease. It's a two-way street; gum disease is connected to problems with controlling blood sugars. Dentists are often on the frontlines of diagnosing conditions that go beyond the oral cavity; for instance, decay-producing dry mouth can be caused by conditions such as Alzheimer's disease and Sjogren's syndrome.
You are way more than your mouth at Brampton Dental Arts. Knowing your health status, lifestyle, personality, and behaviours helps us to identify potential problems early and advise techniques or products that are best suited to your personal preferences.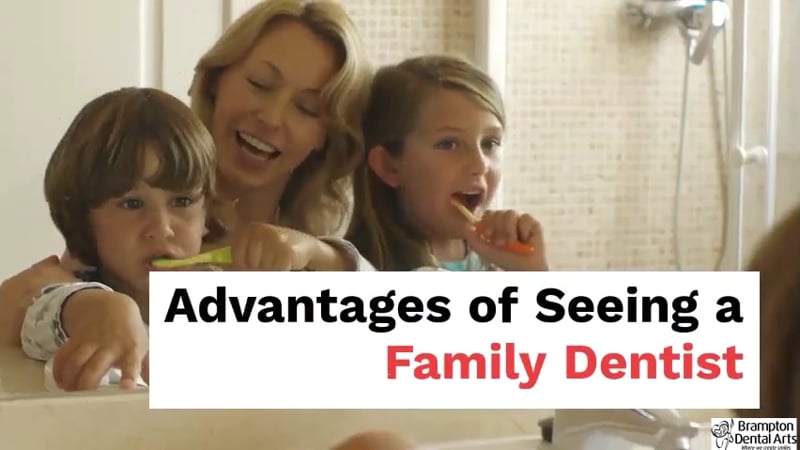 Services for all ages, lifelong health
We want to be your dental partner for life, and for all members of your family. Comprehensive preventive, restorative, and cosmetic services mean there is a dental answer for children and older family members alike.
Children get to know "Mr. Bumpy" the drill and "Mr. Thirsty" the dental suction – tools to keep the "sugar bugs" that cause tooth decay away. We know how to speak to paediatric patients in ways they can understand and that makes the dental visit not so scary. When patients fall into a comfortable routine of visiting us regularly, we're able to identify gradual signs of trouble early and suggest adjustments to home care as needed. Treatments that help protect cavity-prone back teeth or prevent sports-related dental injuries among young athletes may be recommended, too.
Over time, patients may develop dry mouth, sometimes due to medical conditions or the prescriptions used to treat those conditions. We recommend products, medications, and home remedies that moisten the mouth, stimulate saliva production, and protect against cavities.
There are additional benefits with being a trusted dental partner for generations of families; we're able to pick up on oral traits that tend to run in families. For instance, genetics is a risk factor for advanced gum disease. Awareness of those conditions your family members may be predisposed to, helps Brampton Dental Arts develop tactics to manage that risk well before problems arise.
Where comfort and convenience meet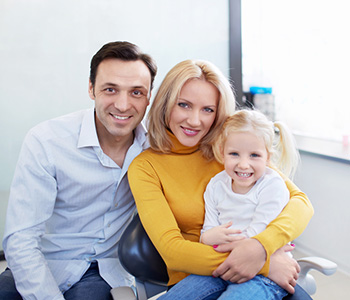 Family dentistry in more than name only is a lot of different things. It's knowledge and proven technologies that make for safe treatments. It's gentle techniques that preserve as much of a healthy natural tooth as possible. It's treatment plans that you can trust, tailored to what you need and want.
We understand you are juggling many competing commitments – from family to work to social. So, our patients also appreciate that visits to our office in Brampton offer a:
Pleasant break from the day-to-day grind. Our lounge is a spacious and inviting place to watch guilty pleasure TV, catch up on emails from friends, enjoy a good book, or take a catnap.
Fun environment for the kiddos. Children look forward to visiting their friendly dentist and playing video games in our Kids Zone.
Stress-free treatment experience. Our large operatories are equipped with the latest, safe radiograph technology, ergonomic chairs to kick back in, and "the perfect distraction" – movies and music.
Sedative options suited to you. If you're anxious, undergoing long or complex procedures, nitrous oxide or oral conscious sedation help you relax. Our dental anaesthesiologist, Dr. Stephen Ing, is among a small and distinguished group trained to safely administer intravenous or general anaesthesia.
No-hassle payment process. Payment options are varied and include flexible financing plans. Brampton Dental Arts also works with many different insurance plans and expedites claims electronically, so you get your money, fast.
Call (905) 581-3726 to schedule your appointment. For your convenience, several family members' visits may be consolidated into one day. We look forward to meeting you.
Share This Article:
Back to Family Dentistry Page