Fully Computerized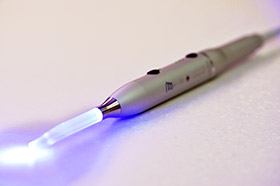 From our chartless practice management software, to digital radiography and electronic insurance claims submission, our office operates on a seamless digital process which is much more efficient and virtually eliminates the use of paper. In essence, this saves valuable time in our office which can be spent with your family.
Sterilization Bay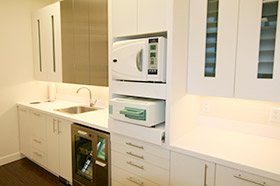 Our state of the art sterilization area is designed to promote a consistent, accurate and intuitive sterilization process. Spore testing is done weekly to ensure not only that the machines are working properly, but that all bacteria is being killed. This information is logged on our computers and checked weekly to ensure we are providing our patients with the best and safest environment in which to provide treatment.
Digital Radiography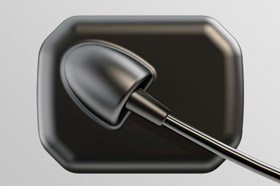 How does 70% less radiation compared to traditional x-rays sound?
How does a 1.5 SECOND wait compared to a 4.5 MINUTE wait for an x-ray sound?
How does seeing your x-ray on a 42" screen to look for abnormalities sound?
This is all accomplished with the Dexis Platinum Sensor, the most advanced digital x-ray system on the market today.
Benefits of this technology include:
– No chemicals or waste making the process environmentally friendly
– Provides much better quality images compared to traditional x-rays
– Able to magnify images providing better diagnostic ability
– Instant images allow significant time savings for patients
– Less time means shorter appointments
– Reduced exposure to radiation
– The most comfortable sensor in the mouth on the market
Diagnostic Tools – Intra Oral Camera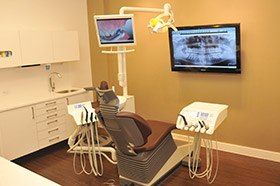 Intraoral cameras allow patients to see problems with their teeth and/or gums including tarnished or corroded fillings, fractured teeth, decay, bleeding gums and plaque. With this technology at our fingertips in every Studio and Therapy room, we are able to work together to determine the right treatment plan for you in order to restore your mouth to optimal health.
Benefits of Intraoral Cameras include:
– Provides patients a better understanding of their dental needs by being able to see exactly what the doctor sees.
– Allows us to recognize potential problems early that could possibly be missed by a visual examination.
– Allows us to effectively monitor a patient's treatment progress.
Diagnostic Tools – Magnification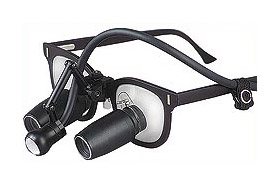 These magnifying glasses, called dental loupes, allow Dr. Sheikh to see things not otherwise perceptible to the naked eye. It is for these reasons that it is universally recognised that the use of magnification in dentistry not only improves the quality of care provided to patients, but also expands the range of treatments that can be offered.
The Benefits Of Magnification include:
– Magnified Image allowing us to see more
– Increasing Precision in our treatment
– Overall Improved Dental Care
Diagnostic Tools – VELscope & ViziLite Oral Cancer Screening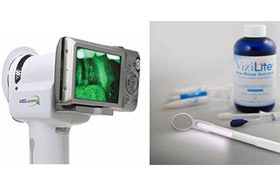 Since our focus is on total oral health, we perform routine oral cancer screenings yearly on all our patients and have incorporated the latest and most efficient Oral Cancer Screening tools into our practice. Both the VELscope system and the ViziLite system have been cleared by the FDA and Health Canada to be used as an adjunct to a standard oral cancer examination by improving the ability to identify suspicious areas in the earliest stages. Early detection of pre-cancerous tissue can minimize or eliminate the effects of oral cancer and possibly save your life. This exam will be offered to you annually at your hygiene appointment. It is performed immediately following a regular visual examination and is quick and painless.
Ultrasonic Gum Therapy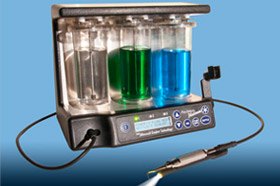 All our therapy rooms are equipped with the Pro Select 3 Piezo system. This device is a power-driven instrument and uses the most advanced ultrasonic technology. Room temperature purified water is emitted through the instrument reducing sensitivity and improving patient comfort. All these factors are essential in removing the bacteria causing gum disease and plaque and tartar attached to the roots of the teeth. This type of instrumentation has been shown to be more efficient and effective over manual instrumentation is key in the prevention, treatment and control of periodontal disease.
Laser Therapy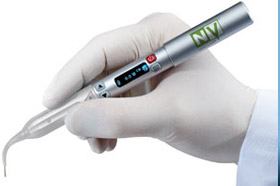 The NV soft tissue laser has allowed Dr. Sheikh to provide an increased number of services for his patients. From simple recontouring of your gums, to treatment of gum disease and other soft tissue procedures, this technology has significantly and efficiently improved the design, health, and overall appearance of patients' smiles, while enhancing their experience in the dental chair.
This soft tissue laser enhances tissue healing and can reduce postsurgical complications. Overall, it allows us to perform procedures with less trauma and discomfort, resulting in better healing for the patient.