Brampton, ON kids get a healthy start with
paediatric dentistry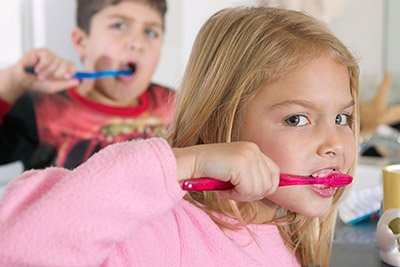 Dr. Azeem Sheikh enjoys caring for all his patients, but he takes special interest in getting children started on a path to a lifetime of dental wellness. His low-stress, lighthearted style of paediatric dentistry puts parents at ease and leaves children looking forward to their next visit to the Brampton, ON office.
The importance of paediatric dentistry in Brampton, ON
Dentistry for children should begin within six months after the first tooth makes an appearance, or by the child's first birthday (even if no teeth are visible). Then, six-month check-ups are recommended – with prompt attention if a problem should arise.
At these early visits:
Dr. Sheikh monitors the child's oral development.
You can ask questions about pacifiers, thumb sucking, baby bottle tooth decay, nutrition, or any other concerns about your baby's oral health.
The doctor shows you how to keep the child's mouth clean and evaluates the results of your home care efforts.
Problems can be identified early, when they can be treated most economically and with minimal discomfort.
Most importantly, the child develops good rapport with the dental team, and an appreciation for the preventive benefits of dental care for kids.
Kids and cavities
Tooth decay is a prevalent problem among Canadian children. Dr. Sheikh has developed a unique approach to increase a child's awareness of the causes, and what can be done to reduce risk of cavities. He uses the "Sugar Bug" story.
The tale puts tooth decay in relatable terms, as tiny bugs that eat teeth when too much candy is consumed or when teeth are not brushed regularly. The doctor describes how he finds these bugs, and how he gets rid of them. Dental instruments have kid-friendly names like "Mister Thirsty," the dental suction tool, and Mr. Bumpy the drill. This technique takes anxiety out of the filling procedure, and helps the child feel proud of an attractive white filling. It also empowers the child to take control of dental health with good home care.
When you choose Dr. Sheikh as your child's dentist, you won't need to switch providers when he or she approaches adulthood.

You can count on the same level of compassion and care throughout life. Call 905-581-3726to schedule your kid's dentist appointment at Brampton Dental Arts.