Tooth replacement with dental implants feel like natural teeth, confirms Brampton, ON dentist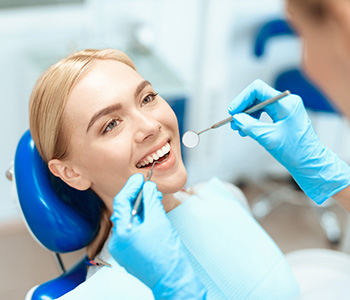 Dental implants are a solution for many patients in the Brampton, ON area who are seeking restoration with a natural feel. Tooth replacement with dental implants is a great way to repair a smile's appearance and function while ensuring the new restoration feels like the patient's natural teeth.
What is a dental implant?
In the medical field, many doctors will use implants to replace missing parts of the body, specifically bones. The same applies to the field of dentistry. Dental implants are restorations used by dentists to replace a single natural tooth. These restorations feel like natural teeth because they function as a natural tooth root once did. The implant is made from titanium and is installed during oral dental surgery into the bone of the jaw. This allows for the proper foundation for strength and stability. Dental prosthetics such as implants are highly desirable for a variety of reasons.
Why might a patient consider dental implants?
Implant dentistry is popular for a reason:
Dental implants are strong and durable, providing the best stability in terms of functioning once placed and restored.
Dental implants cost more than alternatives such as bridges or dentures but can last a lifetime. This makes them a wise investment in restoring the smile following tooth loss.
Dental implants can last decades with proper care and attention.
Dental implant placement is 98% successful when performed by a specialized professional such as Dr. Azeem Sheikh.
Dental implants are versatile and used in a myriad of situations. They can replace a single tooth when restored with a dental crown, or several teeth when repaired using a dental bridge or a full denture.
Dental implants restore the function of the smile, ensuring patients can enjoy their favorite foods with ease.
Dental implants are biocompatible. The titanium material used to create a dental implant will not rust or degenerate.
Dental implants maintain natural bone. In situations where teeth are lost, bone resorption is a serious issue and can impact the surrounding teeth. However, dental implants preserve bone and keep the jaw healthy enough to support existing teeth.
Who is a candidate for dental implants?
While dental implants are popular, they can only be obtained by patients who meet specific requirements. Since dental implants require sufficient bone to support the restoration, patients need to have an evaluation completed to ensure the jawbone can provide the foundation necessary. Patients who have lost a significant amount of bone over time may need to consider procedures such as dental grafting to prepare the smile for the placement of dental implants. Additionally, patients need to have a smile free from periodontal disease and tooth decay, which can impact the successful installation of dental implants and increase the risk of a failing restoration.
What is the process of obtaining dental implants?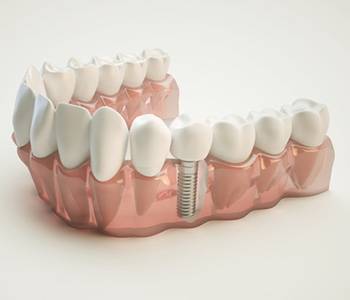 Before a patient can move forward with the placement of dental implants, they need to undergo an evaluation to determine candidacy, including a physical assessment and x-rays. Once a patient has been deemed an appropriate patient for this restoration, they schedule their upcoming oral surgery. During oral surgery, our dentist will create a hole in the bone to place the implant and suture the gum tissues above. A temporary restoration is placed over the implant while several weeks of osseointegration need to occur. This is the growth of the bone surrounding the implant. Once solidified in the jawbone, patients have a final restoration placed, typically a dental crown when replacing a single tooth. Dental implants are then evaluated regularly during routine cleanings and check-ups to ensure the treatment has been a long-term success. Patients need to care for their smile just as they did before, with regular brushing, flossing, and dental recall appointments.
Why choose Dr. Azeem Sheikh?
Dr. Azeem Sheikh has been placing dental implants for over 14 years, placing over 4000 with a success rate of 99%. Additionally, he is also the Course Director for a large implant company and lectures for them on dental implants. He trains over 100 dentists a year. He also runs the Ontario Dental Implant Network which provides training and mentorship to 45 dentists across Ontario on dental implants.
Brampton Dental Arts proudly offers implant dentistry
Patients of Brampton, ON faced with tooth loss need to work with a dentist who offers a selection of services to effectively and affordably restore the smile. If you are interested in discussing dental implants with a professional to determine if they are a good fit for you, we welcome you to book a consultation visit and initial evaluation with Dr. Azeem Sheikh of Brampton Dental Arts. The practice is located at 105 Father Tobin Road, Unit #7, and can be reached by calling (905) 581-3726.
Share This Article:
Back to Dental Implants Page