Patients in Brampton, ON ask, "What is gum grafting surgery?"
Gums are a vital component of the mouth; they play a role in supporting the teeth and an active role in protecting the mouth against infection. When gum disease goes untreated, the gum tissue may begin to recede, meaning it pulls away from the teeth, exposing more of the tooth and the tooth's root. When this occurs, gum grafting surgery is needed to repair the damage. Below, Dr. Sheikh of Brampton Dental Arts explains gum grafting surgery and its role in restoring oral health.
What causes gum recession?
Most gum recession is linked to gum disease, which is most frequently caused by poor oral hygiene, hormonal changes, or uncontrolled diabetes. Individuals who smoke are at a much higher risk of developing gum disease as well as gum recession.
Other potential causes of gum recession can be overaggressive brushing, bruxism, and mouth piercings.
Treatment for gum recession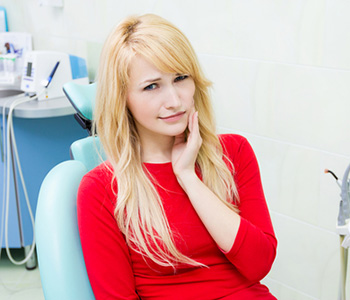 When gum disease is caught early and the gum recession is mild, a professional deep cleaning called a scaling and root planing procedure is recommended. During this procedure, bacteria and plaque are removed from the surfaces of the teeth and the periodontal pockets. The surface of the tooth root is then smoothed out to encourage the gums to heal and reattach.
When the gum recession is more advanced, further treatment such as gum grafting surgery is recommended. While the procedure may sound scary, it's a very common treatment with great results.
What is gum grafting?
Gum grafting surgery is a general term used for a collection of periodontal treatments designed to cover the exposed root tooth with grafted tissue.
Some common types of gum grafting surgery are:
Connective Tissue & Alloderm Grafts – Connective Tissueis the most common type of graft and is done using donor tissue from the roof of the mouth. First, a small flap is created in the palate, and then a layer of tissue from underneath is removed and placed in the area of gum recession. The donor graft is stitched into place and then the area in the roof of the mouth is stitched into place. This type of procedure is ideal for areas of recession in esthetic areas of the mouth.
In an Alloderm graft, we can use an allograft (tissue from a human donor) and transplant it under the patient's gum. This is ideal for patients who need thickening of the gum tissue and can lead to a reduction in gum recession.
Free Gingival Grafts – This type of graft uses donor tissue directly from the palate rather than using the subepithelial tissue lying underneath. Once the donor tissue is stitched into place, a covering is placed over the exposed area in the roof of the mouth for healing. Free gingival grafts are generally recommended for individuals who have thin gums that require thickening or for less esthetic areas of the mouth.
Benefits of gum grafting surgery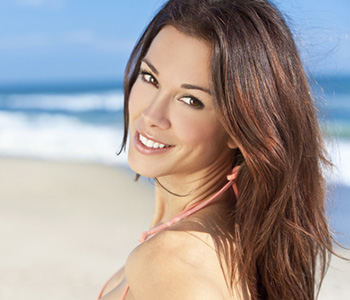 Reduced Sensitivity – When gum disease causes tooth root exposure, the result is often extreme sensitivity to hot and cold foods or drinks. Once the gum grafting surgery successfully covers the exposed root, it drastically reduces the discomfort and sensitivity.
Enhanced aesthetics – If you've ever seen an individual with gum disease, you may have noticed their smile appears "toothy." This is due to the gum recession making teeth appear longer. Gum grafting restores symmetry to the teeth, improving the appearance of the smile.  
Improved oral health – Untreated gum disease can lead to rapid deterioration of the gum tissue. Gum grafting halts this process, prevents future tissue and bone loss, helping to restore oral health.
The process of gum grafting surgery
Once it's determined which type of gum grafting procedure is needed, a professional deep cleaning is done to remove plaque and tartar buildup.
Gum grafting surgery is done in the office under local anesthesia. First, the area receiving the donor tissue is prepared by creating a small pocket to allow room for the graft. An incision is made into the recipient site and the donor graft is then inserted and sutured into place to prevent shifting. Surgical material is placed on top to promote healing and protect the area. Patients can expect complete healing about six weeks after the procedure.
For more information on the gum grafting procedure, or to schedule a consultation with the team at Brampton Dental Arts, please give us a call at 905-581-3726.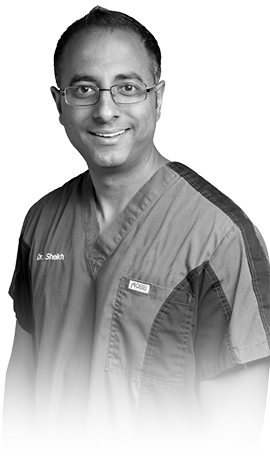 Dr. Azeem Sheikh - Brampton Dental Arts
Dr. Sheikh graduated from the University of Western Ontario in 2003, and has been practicing dentistry in the Greater Toronto Area for over 15 yrs. His main goal has been to focus on providing patients with all aspects of dental treatment, from basic dentistry (fillings, root canals, crowns), all the way to complex surgeries including wisdom tooth extractions, gum grafting and
dental implants
.
Dr. Sheikh
has placed over
4000 implants at a success rate of 99%
and works with other dentists and denture clinics to provide various surgical procedures for their patients also! In addition to operating his practice, he is an international lecturer and Key Opinion Leader on Soft Tissue Management (non-surgical gum treatment program) for
DenMat
. He is also the Course Director for the
HiOssen
Master Implant Training Program, a program that trains dentists on how to perform implant surgeries on their own patients. He has also lectured for other large organizations including the
Halton
Peel Dental Association, Smiles First Academy and Straumann on varying topics including Implant Treatments and Case Presentation. Lastly, he is the founder of the Ontario Dental Implant Network (
www.livedentalsurgery.com
), featuring courses and Live Surgery mentorship to over 55 dentists across the Greater Toronto Area. If you are looking for a new dentist – look NO FURTHER!
Back to Gum Surgery Page